The Argentine Wine Industry
Malbec finds a home
Why is Malbec so predominant in Argentina but not elsewhere? Simply, because when the grape was brought to Mendoza it thrived in the dry climate immediately.
Malbec is a grape that is very susceptible to rot and mildew, and therefore very difficult to grow in 'normal' to damp conditions. So any region that experiences any reasonable amount of rain while the vines are bearing fruit has a great deal of difficulty with Malbec – including its Bordeaux home, where producers are increasingly coming to the conclusion that the grape is simply not worth the trouble. In Mendoza, though, there is (to all intents and purposes) no rain at all. Rot and mildew are therefore not a concern.
Frost, to which the grape is also very susceptible, can be a problem in some locations due to the cold desert nights: but frost prevention measures are by now well developed and highly effective (this partially accounts for the popularity of the parral high overhead trellis system in many vineyards). Similarly, devastating summer hail storms can wipe out entire vineyards, though most growers now spread their crops over several locations to mitigate risk and/or invest in mesh shield hail protection systems. The trade-off of mesh, of course, is filtered sunlight and therefore slower ripening. Some growers think it's a trade-off worth making. Others take their chances with mother nature, although this can spur them into panicked early harvests if hail is forecast.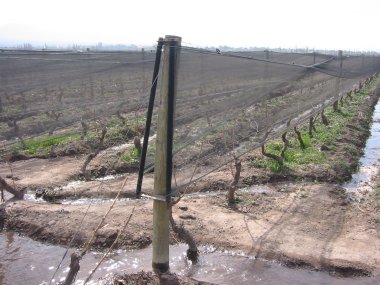 Hail protection and winter irrigation at Fabre Montmayou vineyard in Lujan de Cuyo
Phylloxera, while present, generally causes little damage due to the flood irrigation methods. Growers moving to more efficient drip irrigation systems are conscious of the increased phylloxera risk that they face, and grafting onto resistant rootstock is becoming more common in new plantings.
But while Malbec was clearly suited to the climate, it was not necessarily suited to the market during the early development of the Argentine wine industry.
Next: The double-edged sword of domestic demand
Index