The Argentine Wine Industry
Early beginnings
Like much of the new world, Argentina owes its first vineyards to the Catholic church and its Holy Communion. As early as 1556, missionary priests crossed the Andes from the Spanish colony in what is now Chile, to Argentina. They brought with them vines – most likely similar to what is now the most abundant grape in Argentina, Criolla Grande – for the primary purpose of making communion wine.
While the first plantings were further north, vines were well established in Mendoza by the end of 16th century. By the 18th century, the quality of Mendoza wines had become recognised throughout the colony and they had become an extensively traded product within the domestic market.
The suitability of Mendoza for wine grape cultivation was understood early, but it wasn't until 1880 that a French botanist planted the first French grape varieties in the area. Italian and Spanish premium varieties were similarly introduced by immigrant winemakers from those countries during the extensive migrations that followed over the next few decades. Many of the wineries currently operating in Mendoza can date their vines, buildings, or both back to this era.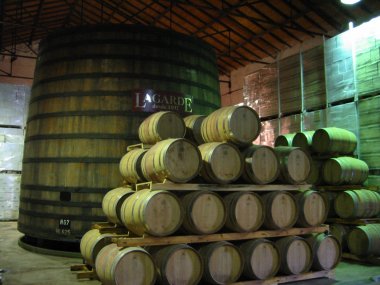 Lagarde vineyard, Lujan de Cuyo. Buildings and vines date back around 100 years.
However, these pioneer winemakers would never have entertained the notion of planting vines had the region's indigenous people, the Huarpes, not transformed the arid desert of the Andean foothills into a viable argricultural zone hundreds of years earlier.
Next: Growing grapes in a desert
Index